This is a simple plugin for Wordpress to test if the visitors ISP supports DNSSEC. The result is displayd in a widget.
This plugin is totally relying on the code from Loopia AB. For more information (in Swedish) see http://blogg.loopia.se/2009/02/23/snalla-stjal-var-dnssec-kod/. A HOWTO is also published at http://blogg.loopia.se/2009/02/25/dnssec-widget-for-wordpress/.
You are free to do any changes in the code so it fits your theme but please let me, markus(at)liljedahl.info know so I maby can do a global update.
Screenshot: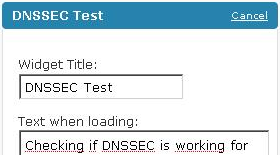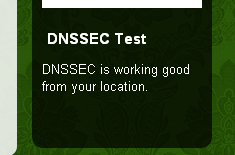 Changelog:
2009-03-04 - v1.2.1
Fixed bug in Opera when hiding div's.
Some code makeup.
2009-02-25 - v1.1
Added the ability to change the title and text from the widget control panel.
The project is now commited at wordpress.org.
2009-02-24 - v1.0
The initial release
Download: dnssec-test.1.2.1.zip v1.1 (2009-03-04)